Bed Bath Enters Tough Territory With Loyalty Program
The $29 annual membership test program offers 20 percent discounts on all orders
Posted on October 13, 2016 by Allison Zisko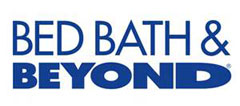 NEW YORK—Bed Bath & Beyond's new fee-based loyalty test program draws the specialty retailer into an increasingly crowded arena that has had mixed results with the strategy.
Bed Bath & Beyond's new annual $29 membership program offers 20 percent discounts on all orders across all of its retail platforms, according to published reports. The program is believed to be in test mode, and it is unclear whether the new fee-based program would lead to the elimination of its popular 20 percent off coupons, which are individually applied to one item.
Withdrawing discounts once they are in the market is risky, noted retail analyst Steve Goldberg, president of The Grayson Company. "Altering buying patterns is always a challenge," he told HFN. Discounts with expiration dates must also be carefully monitored and need systems to support them, Goldberg said. In the past, Bed Bath has been known to accept long-expired coupons.
Fee-based programs can work, Goldberg added, "but not many have." Amazon Prime is the exception, and Prime customers, who pay a $99 annual membership fee, receive benefits beyond free and expedited shipping. The Grey Card from RH, which launched in the spring, costs $100 per year and grants 25 percent off any item, has so far led to higher median order values but has had little impact on purchase frequency, according to Second Measure, a company that analyzes consumer purchases for investors.
Bed Bath will have to weigh the benefits of repeat customers versus discounts, Goldberg said. "The jury is out," he said, offering his take on the reported program. "No doubt they spent a lot of time giving this some thought."
To view the published article, click here.