Chris Palma, a Senior Analyst at TGC, recently hosted a keynote conversation at the 11th Annual NYU Stern Luxury & Retail Conference.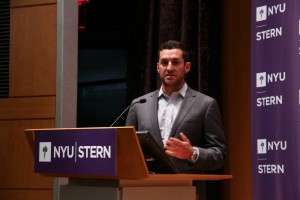 The event featured Elaine Hughes, CEO of E.A. Hughes, and Ron Frasch, former President and CMO of Saks Fifth Avenue and Operating Partner at Castanea Partners.  Prior to joining Castanea, Ron was President and Chief Merchandising Officer at Saks Fifth Avenue until the sale of the company to Hudson's Bay Co. in 2013.  Previously, Ron was CEO and President at Bergdorf Goodman. He also held senior executive positions at Escada and Neiman Marcus.
For the past 10 years, the Luxury & Retail Club at New York University's Leonard Stern School of Business has hosted an annual conference bringing together top graduate students with leading industry professionals in Luxury, Retail, Hospitality & Spirits, and Consulting.  This year's conference theme was 'Envisioning a Connected Future'. With the retail space constantly evolving—the goal was to highlight how top companies are adapting their strategies to remain relevant within a competitive global landscape.