The Swedish retailer makes up for lost time with a thorough and deliberate approach to the newest form of retailing
By Allison Zisko | November 2, 2016
Big boxy Ikea may ultimately prove that slow and steady wins the omnichannel race—and be surprisingly nimble at it in the process.
After a relatively slow digital start—Peter Agnefjäll, president and CEO of Ikea Group, told CNBC one year ago that the Swedish retailer "could have been faster" getting into e-commerce—Ikea in September reported strong online sales for fiscal 2016. Agnefjäll told Reuters that online revenues grew 30 percent, to $1.54 billion, without entering any new online markets. Back in January, he told Bloomberg Business that the company's goal is for online revenue to represent 10 percent of total sales by 2020.
"On a journey to become the world's leading multichannel home furnishings retailer, Ikea Group is increasing its focus on integrating physical and digital commerce to enable customers to shop in ways that suit their needs," the retailer said in a statement accompanying its fiscal year report in September. Total sales were $37.7 billion, and sales in comparable stores grew a healthy 4.8 percent.
Over the past year Ikea—which had 328 stores in 28 countries as of Aug. 31, 2015— has opened 19 "pick up and order points" (none currently in the United States), which enable online or Ikea store shoppers to pick up their products closer to where they live. The retailer said it is developing a flexible distribution network to support that effort. Ikea also piloted a virtual reality app in April that enables consumers to envision three differently styled kitchens. Ikea's full 2017 catalog is available digitally (under a new URL) as well as in print, and is available for smartphones and tablets with videos and features that offer a 3D feeling of home furnishing solutions, and an augmented reality feature that allows users to virtually place and view nearly 400 products in their own homes. The app also connects with the latest version of Apple TV.
"In the coming year we will put even more effort in providing a great Ikea experience for visitors across all channels," Agnefjäll said.
Physical and E-Commerce Integration
While Ikea U.S. declined to be interviewed for this story, retail analysts and consultants have a strong point of view about Ikea's business.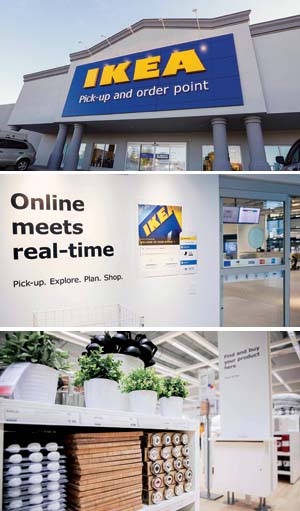 Ikea U.S. is broadening its vision from a traditional brick-and-mortar focused retailer to encompass an omnichannel experience, said Paul Dubie, manager at Boston Retail Partners. "At present, this transformation is still in its infancy. With broader product selection available for online purchase and delivery, mobile shopping and catalog apps, it is easy to see the retailer's vision to offer its customers the omnichannel experience they now expect."
Steve Goldberg, president of The Grayson Company, a retail consulting company, has been following Ikea for 30 years. He believes that almost no other retailer is as uniquely suited to omnichannel retailing than Ikea. But its slow entry into the omnichannel business does not surprise him because the Swedish giant is known for its methodical and meticulous approach to all aspects of its business. "They are extremely deliberate about everything," Goldberg said. "They are careful. They experiment. They test. They don't succumb to trends. They are very, very, very careful."
That caution applies to every business decision, Goldberg said, from store site selection to product assortments to the move from giant catalogs to smaller ones.
The pick up and order sites, which Dubie referred to as a "an experiment to extend the reach of Ikea's e-commerce unit" could be seen as another example of Ikea's careful deliberation. "They are extremely operationally oriented," Goldberg said.
"Ikea's growth through pick up and order points in Canada is a crucial part of our business and allows Canadians to have increased accessibility to our products," said Stephanie Kerr, corporate press officer for Ikea Canada, which operates six pick up points; the Quebec City location is Ikea's busiest worldwide. "The pick up and order points are allowing Ikea to expand quickly into markets that have been identified as having potential." The global test program also offers a high level of customer service and can give e-commerce customers a lower cost option than home delivery, Kerr said.
Ikea already has the pieces in place for a successful omnichannel operation, according to Goldberg. It was in the business of mass customization long before anyone else and understands the tools that go along with that, he said. It offers unique products, enjoys end-to-end margins and cannot be comparison shopped because it only sells proprietary brands and products. It has perfected the model of buy, pick-up in the store and wheel to the exit, and offers the opportunity to buy online and pick up in store as well. "It has the space, the customer service and the organizational structure to make that happen," Goldberg said. "The buildings are warehouses themselves. Each store is an ecosystem. "No one [else] is really quite suited to this ecosystem dynamic. Ikea has always been there."
Dubie listed some additional advantages. "Ikea is striving to provide stock availability and inventory information that is truly cutting edge. Ikea makes it easy for customers to determine when the item is most likely to be available in her local store, based on current stock levels and forecasted shipment inventory."
Ikea also excels at making detailed data available through the product description pages of its website, Dubie said. This includes useful descriptions, product and shipping dimensions and downloadable assembly instructions, coupled with coordinating products and related items.
Content and Community
There are a just a few weaknesses that Ikea can work on, the analysts said.
"Online planogram information makes it easier to find the specific aisle and bin where the product is located at your local store. However, this information requires multiple clicks and digging, and is not intuitive to find," said Dubie. "Ikea is currently not taking advantage of customer generated content like ratings and reviews, or questions and answers, which many shoppers value."
Goldberg conceded that although Ikea is very good at product groupings, which he attributed to its many years in the catalog business, its website presentation is not the best from a user perspective. "But it is foolhardy to second guess these guys," he added.
Dubie said, "Another way Ikea could enhance the customer experience would be the addition of a chat feature allowing online shoppers the ability to inquire before they buy or drive to the store."
Both analysts agreed that Ikea's broad assortment across multiple product categories gives it an advantage over other retailers. "Some of the more popular items include Ikea's traditional Poäng chair, the Lack side table, the Billy bookcase, and it's famous Klippan loveseat, all available for purchase online or in-store, illustrates the diverse popularity and accessibility of various product categories," Dubie said.
Ikea's large data cache on its customers, which seamlessly tracks them through all their life stages based on the purchases they make, "is almost unique in the home furnishings business," according to Goldberg. "They have this fabulous bead on the consumer from a lifestyle perspective," he said.
To read the published article, click here.