Spitting in the eye of e-commerce, the off-price retailer strategically focuses on brick-and-mortar stores
By David Gill | November 2, 2016

HomeGoods is home retailing's new Gold Medalist.
With many brick-and-mortar retailers posting up-and-down results lately—some with all down performance—the specialty operation of The TJX Cos. has maintained an upward trajectory for the past few years.
Its net sales rose 31 percent to $3.9 billion from fiscal year 2014 to fiscal year 2016, which ended on Jan. 30 of this year. It reported same-store sales increases of 7 percent in 2014 and 2015, and 8 percent for 2016. Its profit rose 42 percent in that three-year time span, to $549.3 million.
Contrast that with the results over the same three-year period from Bed Bath & Beyond, its closest retail rival. In the 2014-2016 fiscal span, Bed Bath's net sales rose 5.2 percent to $12.1 billion. Net income over that period fell 18 percent to $841.5 million. Same-store sales increased by 2.4 percent in 2014 and 2015, and only 1 percent in 2016.
Recent visits by HFN to a HomeGoods store in New Jersey and another in Manhattan provided a strong sense of why the store has become such an appealing place to shop. Its maze-like layout doesn't deter shoppers, leading them from one department to another until they've actually walked the entire store. "It leads you around like a racetrack although it isn't a racetrack," said Richard Roman, president and CEO of Revman International, a textiles supplier to HomeGoods.
On the way, the shopper finds merchandise that leads to thoughts such as "Oh, yes, I could use that." The pricing on these items brings the thought of, "Hey, that's not bad for a sofa, or a comforter set, or a kitchen gadget."
Impulse shopping and the treasure-hunt atmosphere are what HomeGoods and other off-price retailers (including its brethren, T.J.Maxx and Marshalls) are all about. Stores in this channel "have the unique ability to change product offerings quickly, which creates a scarcity effect that makes consumers feel more compelled to purchase on the spot rather than risk someone else beating them to the checkout line," said Moody's Investor Service in an analysis of this retail sector.
In fact, HomeGoods may have mastered the impulse factor to a greater extent than other members of the TJX family. Ernie Herrman, the company's president and CEO, described HomeGoods as "our most impulsive-mix store" during a conference call to financial analysts earlier this year. "It's difficult if you're a customer to walk in and not spend $200," Herrman said, "because there's so much exciting impulse merchandise there."
HomeGoods is also "our fastest-turning business," he added, which is another part of its appeal. "I think we're getting a customer there that not only is it impulsive to begin with, she could go back a week and a half later and it's different again," he said.
Treasure Hunt Mastery

HomeGoods' customers keep coming back not only because of the rapid rate in which merchandise disappears from its shelves. "Their success is the result of their ability to continually find deals on fashionable and functional household items that surprise and delight customers by creating a treasure-hunt atmosphere," said Robert Cuthbertson, vice president of retail analyst firm Boston Retail Partners. "Customers have become trained to expect surprises and are predisposed to being more flexible during their shopping experience."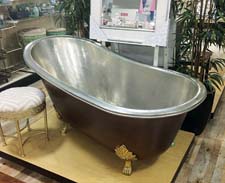 There is another reason why shoppers keep coming back to HomeGoods stores. The treasure-hunt atmosphere generated by off-price stores doesn't lend itself to online, said the Moody's analysis. HomeGoods' website is for browsing only. "Because HomeGoods does not sell online, consumers are driven to visit the stores, resulting in strong traffic flow," said Cristina Fernandez, analyst with Telsey Advisory Group.
What shoppers see, whether browsing through the stores or on the website, are fashionable goods at value prices. "They have upped their game in style and design," said Steve Goldberg, president of The Grayson Company. "They know how to maximize their product categories by attaching brands to them that have authority. They have created an audience of women who enjoy the hunt for great fashion."
HomeGoods also knows how to stop shoppers in their tracks with some product offerings. The store visited by HFN in New Jersey featured a gigantic metal bath tub about 7 feet long with a depth of about 4 feet, presented in an antique style.
"One week when I was in a HomeGoods, I found a carousel horse," Goldberg said. "In another visit, I saw a mirror that was 8 feet tall, the sort you might see during a High Point Market, and in another visit, I saw a 5-foot-tall Buddha. HomeGoods likes to create a 'wow' factor that acts as an umbrella over other merchandise."
Product at the Right Price
HomeGoods has also established a leadership position in pricing. "Consumers trust the pricing at HomeGoods, which is generally 20 to 50 percent below that of department stores and specialty stores," Fernandez said. "In addition, the products found there are harder to price-compare online, driving conversion."
"At HomeGoods, the customer might find high-end products at deep discounts or moderate-level products with fair discounts," Cuthbertson said. This pricing strategy reinforces the treasure-hunt aspect of shopping in HomeGoods. "With a wide range of product categories and a continuous flow of new products, customers never know what to expect or what they will find," Cuthbertson said. "This is the beauty of the treasure-hunt shopping experience that keeps customers coming back to find more deals."
With its business model, HomeGoods has created fans among its vendors as well. Manufacturers interviewed by HFN spoke of the "excellent relationship" they have with the retailer and with other TJX stores. "It's really a partnership," said Ian Zucker, CEO of Ten Strawberry Street. "They understand the vendor. You go in with your eyes wide open."
Vendors are shoppers, too, and appreciate HomeGoods' way of merchandising its assortment. "It's a fun and adventurous environment," Roman said. "They get new merchandise every day, and you never know what you're going to get. It's an environment that entertains shoppers and creates a sense of urgency, because if she doesn't buy it then, it's gone right away."
Since 2012, HomeGoods has been on a fast expansion track, growing the chain from 374 stores at the end of fiscal year 2012 to 526 at the end of fiscal 2016. The plan for fiscal 2017 is to open 50 more stores.
"We see this chain expanding to at least 1,000 stores, almost double its existing base," Herrman told financial analysts.
Aside from the chain's physical growth, there is plenty of reason for optimism among TJX's executives for HomeGoods' continued success in the years to come.
"We are very happy with the traffic and comp increases we continue to see at HomeGoods," Herrman said on another conference call to financial analysts after TJX released its first-quarter results this year. "The enthusiasm of our HomeGoods customers is hard to beat."
To view the published article, click here.